Originally Depaul Trust but later divided by region, our work continues in the spirit of Vincent de Paul – in a practical, non-judgmental way with people on the margins of society wherever there is need, to offer homeless and disadvantaged people the opportunity to fulfill their potential and make positive, informed choices about their future.
Depaul Ireland
Depaul Ireland is a fresh and dynamic cross-border charity which offers homeless and disadvantaged people the opportunity to fulfil their potential and move towards an independent and positive future.
At Depaul, a commitment to working with the most marginalised is central to what we do. This has been demonstrated through the services that have grown each year – services that were the first of their kind, working with many people who had previously been turned away elsewhere.
We provide accommodation and key services to people who many others struggle to work with – street drinkers, women in prison, families who others have given up on, those with behavioural, self-harm and addiction problems.
Established in Dublin in 2002, Depaul Ireland manages 12 specialised services between Dublin and Belfast and provides 303 bed spaces per night for homeless people.
To learn more click here
Depaul UK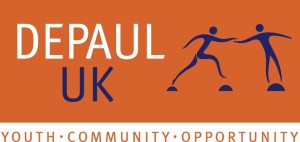 Since 1989 DepaulUK has helped over 45,000 young people and we are now the largest UK charity for young homeless people. We protect young people who become homeless by finding them a place to call their home. Each year we provide over 100,000 bed nights and we are open every day and night. We prevent young people from becoming homeless by rebuilding family relationships and offering through the gate support to young offenders. We provide young people with the chance to fulfil their potential in the community through education, volunteering, training and jobs.
To learn more click here