The vocation of a Vincentian is to be holy. That's our primary calling: to be holy – in other words, to be as close to God as possible and to allow the Lord to fill us and spill out of us. And everything else that a Vincentian or indeed a Christian does or becomes is come out of a holiness; that we be there for the Lord to use us.
St. Vincent said give me a man of prayer and I will give you someone who is able to achieve all things. So prayer for us is our way of remaining in a state of continual conversion that we are always tuning into the Lord and trying to be attentive to the Lord in our lives, in our community, in our society, in the circumstances that we are working in and living in and in the world in general and so trying to respond not out of our own means but out of the spirit.
That's a communal thing and that's where community life comes in in a big way; that we are not on our own. We aren't lone rangers or out to do it our own way but there to serve together the Lord's way but of course in accordance to the Church.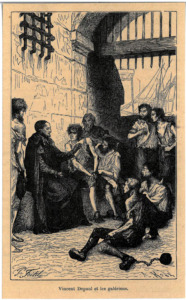 Prayer keeps us in the state of being converted to the Lord. And the crux of Vincent's own personal conversion was his own experience of seeing and serving the Lord in the poorest people of the towns. He came to that halfway through his life. It was a huge insight when he sensed the presence of Christ in the people around him; those he least expected to show him the goodness of God. The poor he said are our Lords and masters because they are the ones that show us the face of the incarnate God. They show us God on earth as the Lord came. In other words, the Lord came as an ordinary person, fully human person. These broken people show us the face of God because God came to seek and save those who are lost, those who are broken.
And that echoes the Passion of Christ. Because the Lord came and after all his miracles, after all his teaching and after all his preaching and after all his forming community and all the good things he did, it was on the cross that he brought us salvation. There are those who suffer, not just physically, but suffer spiritually and emotionally and psychologically and in all these different ways and they show us the face of Christ in a very personal way.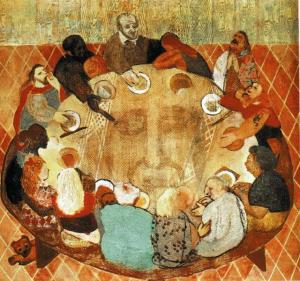 So our Vincentian life is a kind of a pendulum swinging between the two points. One informing and enriching the other. In those that we care for, we are caring for the Lord and the fact that they are broken, is a great privilege in that we are caring for the broken body of Christ, broken on the Cross and broken in the Eucharist to nourish us and that's why the other side of the pendulum is to return to prayer, Eucharist and the sacraments and through these enter back into communion with the Lord. They strengthen us to continue our mission which is to go back out again and again to care for those who are broken. So we go to Christ who sends us out to find Him in his suffering brothers and sisters. And that's our life's work and that's our mission and our great privilege.